Steel Pitt

NCAA 11, 13, 14 BCS Champ

Yards

: 4180


Swagger

: 85
New York


Fave NFL Team

: Pittsburgh Steelers

on Tue Jul 15, 2014 11:50 pm
Bowl week is now open.  I will advance the week on Saturday (7/19).
. . . . . . . . . . . . . . . . . . . . . . . . . . . . . . . . . . . . . . . . . . . . . . . . . . . . . . . . . .
AALoA Co-Commish
|
PSN:
 SteelPitt16  
|
twitch:
 SteelPitt16
NCAA Dynasty
BCS National Champions
NCAA14 (Iowa Hawkeyes)
NCAA13 (Virginia Cavaliers)
NCAA11 (Syracuse Orange)
dre1479

NCAA 14 BCS Champ

Yards

: 217


Swagger

: 6
Tuscaloosa, AL


Fave NFL Team

: New York Giants


Fave NCAA Team

: Alabama, Arizona State

on Wed Jul 16, 2014 5:29 pm
Postseason Awards Wrap Up
The Crimson Tide dominated the postseason awards along with the All-American and ALL-SEC selections. They were lead by first-ballot HOF Chris Phillips, who won back-to-back Heisman, Maxwell, and Camp Trophies. Here are our award winners.
HEISMAN
WALTER CAMP
O'BRIEN
BILETNIKOFF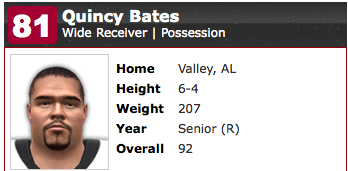 OUTLAND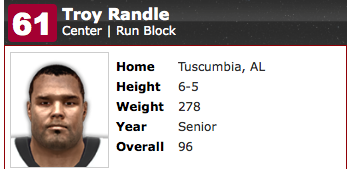 RIMINGTON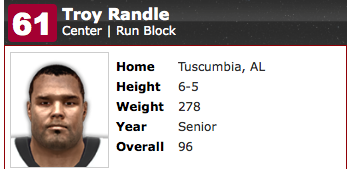 LOMBARDI
GUY

. . . . . . . . . . . . . . . . . . . . . . . . . . . . . . . . . . . . . . . . . . . . . . . . . . . . . . . . . .
Arizona State Sun Devils
2014 Season: 13-1 (10-0 Pac12); Pac12 South Champions; Pac12 Champions; Rose Bowl Champions
2015 Season: 3-1 (2-0 Pac12)
the_EDJ

NCAA 11, 12, 14; Madden 15, 18 Champ

Yards

: 7633


Swagger

: 37
Omaha, NE


Fave NFL Team

: Chicago Bears


Fave NCAA Team

: Nebraska Cornhuskers

on Sun Jul 20, 2014 3:27 am
If this is to be the last season of AALoA NCAA Football 14's Online Dynasty, what a way to go out...
From the bottom 4 of the PAC-12, Coach EDJ took the Beavers to the conference championship, and then to the Rose Bowl to face the familiar faces of Nebraska.  Nebraska strutted on to the field with 99 ratings across the board, and Oregon State meekly posted mid to high 80's. The Huskers had 16 players rated 90 overall or higher, the Beavers only 3.
To open things up, Nebraska gashes the Beaver's 2nd ranked rush defense for a 77 yard jog.  Three defenders went for the Running Back, two of them tackled each other, and Bobby Hale went to the house untouched.  Insert facepalm meme here. And keep it on hand, Beaver faithful would need it.  On Oregon State's opening drive, Marcus Minor connects with Huskers DB Montrell Ford in psychic man coverage. Ford would return the pick for six. Uh oh. Two plays later, OSU calls a screen and Minor doesn't throw the ball, instead getting destroyed and fumbling into the waiting hands of Huskers DE Brad Golden. Nebraska scores two plays later. So only 11 plays into the game, and Big Red Nation is celebrating a 21-0 lead. The entire red partition of the Rose Bowl was heard chanting, "WHO NEEDS COACH EDJ!"
Do we bench Minor? Or do we stay the course? This scenario feels so familiar.  Play one of drive three, Minor hooks up with Andrew Roth for a 75 yard TD. Roth's back juke left Nebraska's Mike Woods stumbling all over himself.  Only 3:09 has ticked off the clock at this point in the game.
The 2nd quarter would see 42 combined points scored, causing the old man sign operator who was just hours from retirement to have to be taken to the hospital for spastic arthritis of the hands. Early in the 2nd quarter, OSU find the end zone out of a Wildcat option thanks to FS/QB Ben Cooper. Midway through the quarter, Nebraska's RB Yusef Hopkins takes a handoff off tackle and races 90 yards to pay dirt, untouched by the defense.
Le sigh
. Two plays later, OSU calls a dual screen with a WR tunnel screen and a HB Screen.  The Huskers blitz was quicker than Minor could make the read, and the QB gets lit up, floating a ball for an interception to a Husker' LB.
FML
.  Inside the 5 yard line, the Beaver defense holds! They even picked off Bobby Hale in the end zone to end the drive and keep points off the board. But no, the refs threw a flag, calling offsides on some defensive lineman.  Nebraska takes advantage of their second chance to score another TD with less than 2 minutes to go in the half. And if you thought things were interesting now, you ain't seen nothing yet.
OSU counters with a great 90 second drive.  Minor goes 6/7 passing (a miracle!) and the Beavers pound the ball in for six from inside the one yard line.  With 27 seconds on the clock, Nebraska decides it's going to try and get into field goal position.  With 16 seconds left, QB Bobby Hale launches a bomb down the field for a 65 yard TD pass. The target was Sophomore speed demon Lance Landry (99 Spd, 96 Acc), who even got slammed by me as a manual DB 10 yards down the field, and he still outran my deep safety. WTF.  With 5 seconds left on the clock, the Beavers threw a bomb of their own, and score on a 77 yard TD pass. As was the case all season long, WR Andrew Roth is a monster. WHAT IS GOING ON?!  This was only one half of football.
<<< Second Half >>>
Down by 14 to open the half, Oregon State received the ball.  The offense was methodical, trying to balance things out, which was opposite to the air raid attack that dominated the first half when trying to play keep up.  OSU was able to find the end zone, and draw within 7.  Nebraska would go three and out on their first drive of the second half.  Three plays later, it was a tie game when OSU finds WR Darius Reid for a 30 yard TD. Reid hauled in the pass and spun once, bounced off a defender spinning twice and racing into the end zone. Nebraska couldn't find any rhythm and would go three and out again, and OSU would look to seize the opportunity to claim their first lead of the game.
Instead, QB Minor would take a very bad sack, and fumble the ball. Again. And it wasn't pretty as the QB had to be carried off the field by the offensive linemen.  Two plays later (what a common theme this game), QB Bobby Hale would take yet another QB Wrap (seriously, an overpowered broken play tht should be banned and removed from everyone's playbooks) and race for a TD to reclaim the lead for the Huskers.
With the quick strike by Nebraska, Oregon State had no time to diagnose their starting QB's health situation. So instead of the backup freshman QB, OSU trotted out their Wildcat offense with FS/QB Cooper to stall and try to keep a drive going at the start of the 4th quarter. Five plays later, OSU faced a key third down and at that same time, the team trainers medically cleared Minor but was advised to stay out for at least 2 quarters. With everything on the line, the QB was forced into action. Dropping back on 3rd and 16, Minor finds Roth for an 18 yard gain.  Three plays later on 3rd and five, the gimpy and slow Minor would get flushed from the pocket and limp 6 yards to save the drive and get out of bounds evading a collision.  OSU would continue to work down the field finally capping off the drive with a Goalline plunge by the Beaver's Senior RB Patrick Robinson. Minor didn't take a single hit that drive.
Things were all tied up again, and there was about 3:30 minutes left on the clock. Nebraska was in prime position to go on a drive and waste the clock.  The conservative clock management may have been Nebraska's downfall though as the drive stalled near midfield.  With 90 seconds left on the clock and 3 time outs, OSU only needed a FG for the win.  The Beavers received a short punt and returned it 16 yards.  On the first play of the drive, QB Matt Minor takes a gruesome sack and just lays there.  After a time out he's deemed well enough to play still. On 2nd and 18, TE Calvin Scott hauls in an 18 yard pass. The Nebraska defense is caught in a 3 man front thanks to the no huddle and OSU tries to take advantage with a run up the gut, but it only gains 3 yards wasting precious clock. With the offense completely gassed, CB Patrick Harrell enters at WR and gains 20 yards on a pass. The very next play, Harrell is wiiiiide open in the end zone thanks to busted coverage and the injured Minor throws it right to the safety 15 yards in front of him who stone hands it.  With less than 30 seconds to go, Minor finds Scott again, and rushes the offense to the line calling a Jet Sweep to center the ball. Mr. Dependable John "Stone-footed" Haynes finds some room on the sweep and gains a first down in the middle of the field.  OSU uses its second time out.  With 2 seconds on the clock, Nebraska freezes the kicker. But the straight angle is too easy. The Beavers kick the 30 yard field goal for the win!  Holy mamma-jamma, let's get drunk.
FINAL SCORE
  49
  52
Player of the Game

QB Marcus MinorPlayed 4th Quarter Injured
.
30/38 for 526 Yards (School Record)
3 TDs, 2 INTs, 6 Sacks
Completed passes to 7 different receivers
No Less than 4 clutch plays
Ended the season with the school's single season passing record thanks to this game.
Other Key Stats
:
Beavers WR Andrew Roth
: 11 Rec, 279 Yards, 2 TDs.
Huskers QB Bobby Hale
was still playing! He went 10/15 for 103 Yds passing and 2 TD.  Also went 5 rushes for 153 yards and 2 TDs.
Huskers DE Brad Golden
was still playing! I swear he's been on that roster 6 years. BEAST
Huskers RB Yusef Hopkins
: Long 90 Yard TD rush, still ended with less than 90 yards rushing
This game became my new highest scoring ESPN Classic with a score of 454 points.
. . . . . . . . . . . . . . . . . . . . . . . . . . . . . . . . . . . . . . . . . . . . . . . . . . . . . . . . . .
AALoA Commish
|
PSN
: the_EDJ  
|
twitch
: 
the_EDJ  
|  
Madden League
:
Chicago
Bears

Permissions in this forum:
You
cannot
reply to topics in this forum