the_EDJ

NCAA 11, 12, 14; Madden 15, 18 Champ

Yards

: 7599


Swagger

: 37
Omaha, NE


Fave NFL Team

: Chicago Bears


Fave NCAA Team

: Nebraska Cornhuskers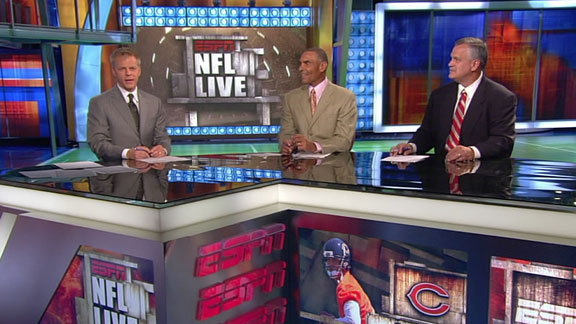 Breaking News: Chicago Bears make moves
The Chicago Bears, a traditionally conservative team on the NFL trade wire shocked the world last night.  Making not one move, but two, with rumors that they were pushing for a couple more moves before training camp ended, and the regular season began.
It was announced that Zach Mettenberger was acquired from the Tennessee Titans for 4-3 DE Cornelius Washington.  Not only is Jay Cutler not competing for his starting job, but he's been completely benched to give way for Mettenberger.  
Think about that for a second. Jay Cutler has always been criticized for his apathetic expressions, and pouty facial expression. Yet never has he once complained about his position, teammates, or coaches in Chicago. On the other hand, Mettenberger has been moody in his limited career, complaining about having to fight for his starting job this summer and lamenting the lack of support from the Titans organization. He just pouted his way into a starting gig with another team. You have to wonder how the Chicago media will take to that.
The second move of the evening involved the Bears cutting their roster down to 53 players. With a logjam at MLB, Colts owner Jay Capers came clammoring for one of his favorite players from Florida State, and traded a 4th round pick for Christian Jones. Jones was slated to start for Chicago, but Bostic, Timu, and Barrow were all barely a half step behind Jones. The Bears also cut Jimmy Clausen and Ryan Mundy, two key backups on the team.
. . . . . . . . . . . . . . . . . . . . . . . . . . . . . . . . . . . . . . . . . . . . . . . . . . . . . . . . . .
AALoA Commish
|
PSN
: the_EDJ  
|
twitch
: 
the_EDJ  
|  
Madden League
:
Chicago
Bears
Permissions in this forum:
You
cannot
reply to topics in this forum